The Bouncing Booties, The Styling & 3 Other Things that Stand out in Rema's 'Bounce' Video
Gone are the days when artistes had to cloak the subject matter of their songs with catchy made-up words. Now, in place of that era are songs that are just as explicit as they are catchy. Enter Rema's Bounce, a song inspired by a 1,000 pounds backside and dedicated to the fine art of getting those backsides to do one thing; bounce. While some listeners have opined that the lyrics are far too explicit, even the Bounce originator's label boss, Don Jazzy agreed wholesomely in an interview, to this coming of age.  The video of Rema's Bounce and current number one single premiered yesterday the 7th of April and Ravers and music lovers have been agog with takes and thoughts on the video and of course, the booties. Well, from said booties to the styling, here are 5 things that stood out for us about Rema's Bounce video. 
1. The bouncing booties
View this post on Instagram
From the very listen of Bounce, it was obvious that this was one song that would be getting visuals, after all the subject matter is one better appreciated in video and not audio. This then begged the question of how for a song where the word 'booty' was said 7 times in a row, the booties would be depicted to match Rema's fervour.
Well, we get our answer from as early as the 13th second of the video as we are graced with fishnet-clad legs and a booty bouncing frenetically as if to be released from the grip of the stockings. From that moment on, the video choreographed by Tiwa Pearl is a tour of Rema's Raver County where fierce-looking women with booties of different forms and bouncing range, are on rampage, giving wings to Rema's impassioned ode to them.
---
2. The styling
View this post on Instagram
Era of explicit lyrics or not, we've all undoubtedly watched several videos with copious views of beautiful backsides as the talking point but with the Daniel Obasi-led styling of Bounce came a depiction much unlike any we'd seen before. To match the distress and post-apocalyptic-themed direction of the video, we are presented with an array of distressed yet aesthetically clad backsides with intricate detailing which range from blinged-out skull patches, to the briefest leather bottoms, tattered skirts, and pantyhoses with calculated runs in them.
Rema himself sports a distress-styled singlet and bleached baggy jeans, all embellished with punk jewellry. The upper bodies of the dancers who double as Rema's booty ravers are not left out as well as the trope of distress gear and punk fashion carries through even to their hairdos. 
---
3. Art direction
View this post on Instagram
Rema's artistry has always been hinged on futuristic fantasy and space travel, this came full circle in the Mad Max-inspired, direction of the visuals. The video, produced by Director K, basically transports us to Rema's desert-bound Raver County where there are bats and crabs in the desert and the ravers are a band of 8 powerful dancers who give life to the beauty of bouncing backsides.
In the three minutes, eleven seconds the video lasts for, we are taken on a journey to a post-apocalyptic world where Rema is leader and booties reign supreme. 
---
4. Don Jazzy the villain
Bounce official video out now Linkinbio!!! dir by @Dir_K_ pic.twitter.com/exTLUf70ds

— REMA (@heisrema) April 7, 2021
We've all watched Don Jazzy evolve from a mysterious producer with a drug baron persona to a fun-loving social media mavin. But in Bounce, we get to see another side of the legendary producer and music executive as we watch him take his throne clad in a leather cloak with horned shoulder and bearlike arms. Bounce is Don Jazzy's return to the craft with which he made his name, music production, and in the video, it's only right he unveils a persona that matches the dark ambiance of his production work on the song.
---
5. The crab in the desert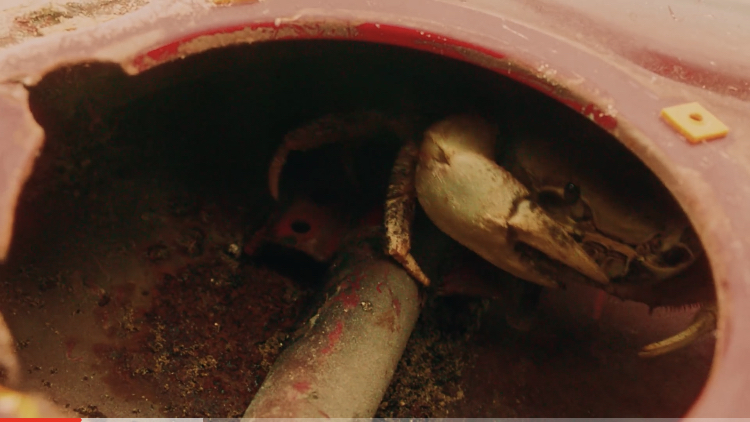 In the desert-based productions we've all watched, we're used to seeing scorpions, scuttling about. However, in Rema's Bounce, the scuttling creature is not a scorpion but incredulously, a crab. A simple Google search will however reveal that crabs do indeed inhibit deserts but are not as common in such areas. Rema's rise to fame is equally a unique story and judging from his Twitter revelations of his grief-stricken background, he is very much the desert crab, scuttling from an unexpected corner unto the top of the charts.
---
Did you notice the crab in the desert? What elements of the video stood out for you? Go right ahead and talk all about them in the comment's section below.
The post The Bouncing Booties, The Styling & 3 Other Things that Stand out in Rema's 'Bounce' Video appeared first on NotjustOk.