Tope Alabi's Reaction to 'Oniduro Mi' Sets Twitter On Fire! | See Reactions
Nigerian gospel singer, Tope Alabi is trending on social media for her criticism of fellow gospel artist, Yinka Alaseyori's hit single, 'Oniduro Mi'.
The video of Tope Alabi saying this surfaced on the internet on Saturday, the 12th of June 2021. The singer who is also a pastor was preaching to a congregation when she made the statement. She explained that she loves Yinka Alaseyori's 'Oniduro Mi' but was cautioned by the Holy Spirit against it. In her words;
When you can see all the wonderful things God has done, and someone will now call him "Oniduro". God is not my own guarantor! God is more than a guarantor. I like the song too but the day I tried to sing it, the Holy Spirit shut me up. He is more than a guarantor. I'm not trying to say the song is not good. When we receive songs in the spirit, there are some conversations you must have with the Holy Spirit before you bring it out. If we all churn it out the way it was brought in the spirit, everyone will be saying nonsense.
View this post on Instagram
This did not go down well with a lot of people on the internet who believed that Tope Alabi was trying to bring down Yinka Alaseyori. Twitter user @IamEtubo wanted to know if Tope Alabi is the one fighting for God;
Tope Alabi is now the one fighting for God… Talmbout "Emi mimo" told her to shut up when she tried singing the song.

Boya emi mimo should squeeze her mouth next time cos what's this?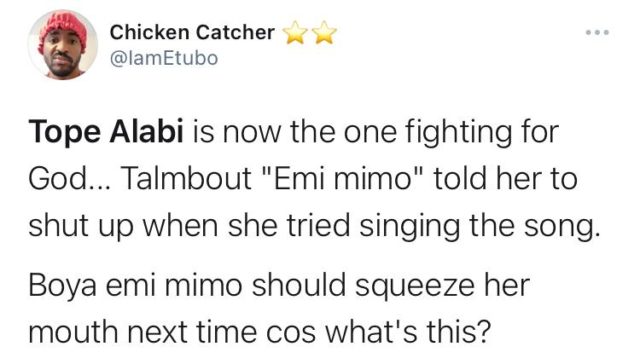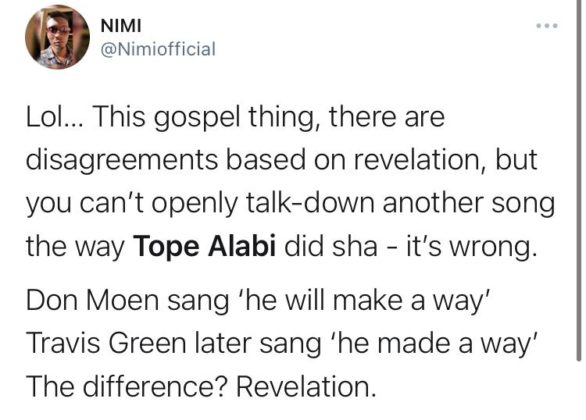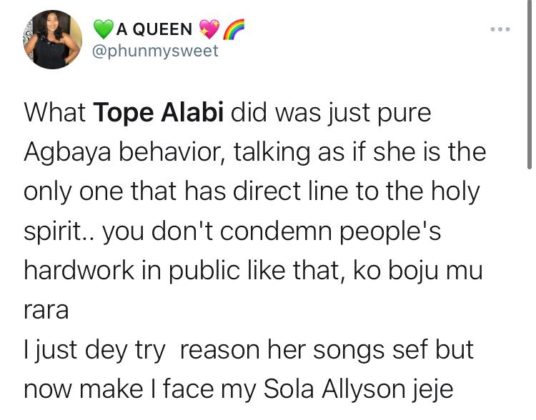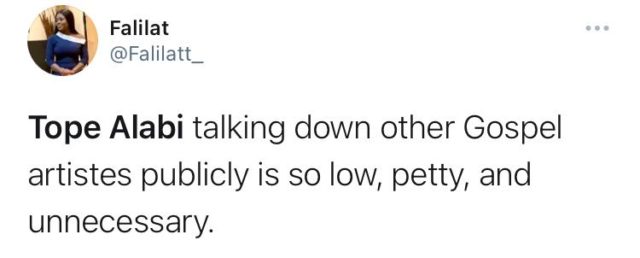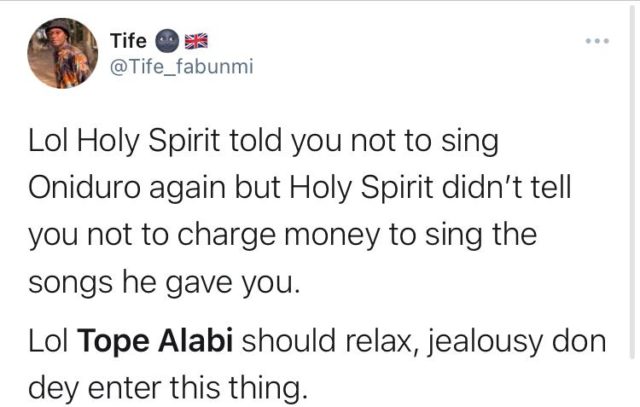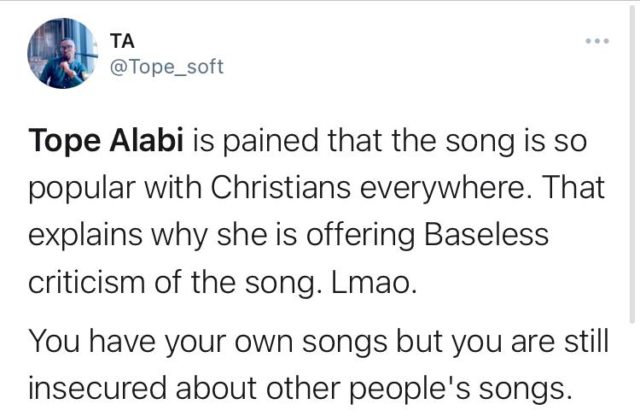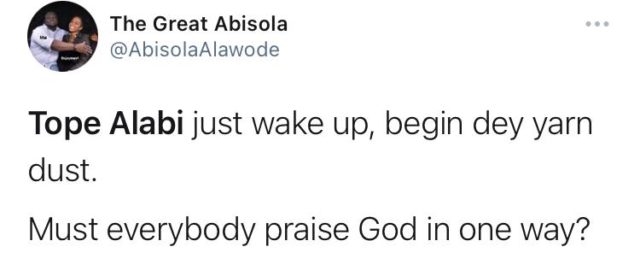 READ ALSO: Tim Godfrey teams up with Pastor E.A Adeboye & Tope Alabi in "Iyanu A Sele"
Sola Allyson posted a video of herself performing 'Oniduro Mi' via her Instagram page on Saturday, the 12th of June 2021. It's unclear whether the gospel singer was responding to Tope Alabi's criticism of the song. She captioned her post;
Oníìdúró mi, Ẹ ṢÉ ooo!!!

For me and many souls which connect to this song, Oníìdúró mi, we have stories which clearly show that we would have been forgotten long ago if not for the guarantor side of The FATHER that was expressed in our lives…

I commend Yinka @adeyinkaalaseyori for making the song more accessible to souls all over the world and I wish her more help in all her doings. The song tells the story of many of us who had no backing from anyone and none to rest on or be as hiding place as to what our tomorrow would be.

I first heard this song years ago from Mama Bola Are at my home-out-of-home, @agape_pground in Akure and I immediately connected with it because, me, I would have been ridiculed, and deserted and forgotten! The song helps me express my gratitude in that respect very succinctly.

I have come to learn that we understand the concept of GOD differently, depending on how we were "given" and how much we are granted to see as we make effort to dig deeper. And that's why I live my life devoid of divides which different abilities in understanding breed…

I don't know much about life. I am still a learner who seeks for my mind to be renewed daily, but one of the few things I know dunjúdunjú and dájúdájú in life is that I received the help of a guarantor, an Oníìdúró from The Realms of GOD, The Almighty, at times when it was obvious that generational jànkárìwọ̀ would stall me from fulfilling destiny. Times when, as a lawful captive, foundational voices vibrated higher than my own and I was going to be consumed! I was set free by The ultimate Guarantor, Oníìdúró mi! And I became totally free to walk as I should in destiny, to grow and thrive as should be…

We see in parts. GOD, The FATHER Is revealed to us in different ways and sides depending on many things…

Concluding based on the bit we are granted to see is dangerous and not fair on humanity. There are many ways we approach GOD and there are words we use based on our limited understanding but I know that by mercy, the state of the heart is understood…
Is it not by mercy that we can approach in the first place? Remember that I am a learner…

ONÍÌDÚRÓ MI, Ẹ ṢÉ OOOO! Mo dúpẹ́!!
The post Tope Alabi's Reaction to 'Oniduro Mi' Sets Twitter On Fire! | See Reactions appeared first on NotjustOk.