Nigerian music artists, such as Wizkid, Falz and Phyno were spotted in a zoom meeting with Business Executives and Governors such as Kwara State Governor which we have come to learn was not scheduled or planned by any of the artistes or social media influencers who were also spotted in the screenshots from the video.
The zoom meeting was held by 10 pm on the 13th of October 2020, with Falz, Wizkid, Phyno, Aisha Yesufu, Dipo, Pamilerin, FK Abudu spotted with Aliko Dangote, Tony Elumelu, Godwin Emefiele, and some politicians.
This meeting has stirred up some concerns with Nigerian Youths on social media who disapproved of the meeting and insisting that the #EndSARS movement has no leaders. They further expressed that closed-door meetings will not be tolerated as their public demands should be answered publicly.
According to the uniformity in the tweets of the selected few that were spotted, it was observed that the zoom meeting wasn't scheduled and that they received an anonymous zoom link only to join and meet business executives and governors in attendance. In their words: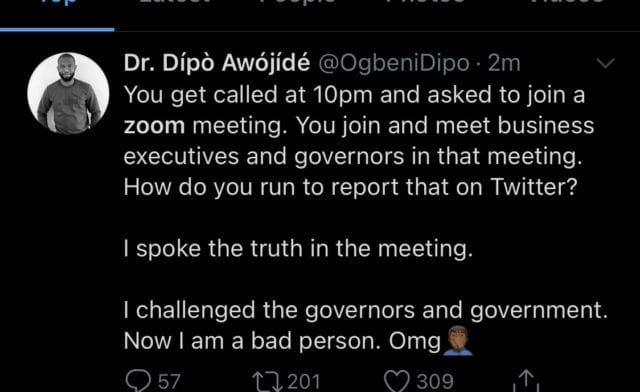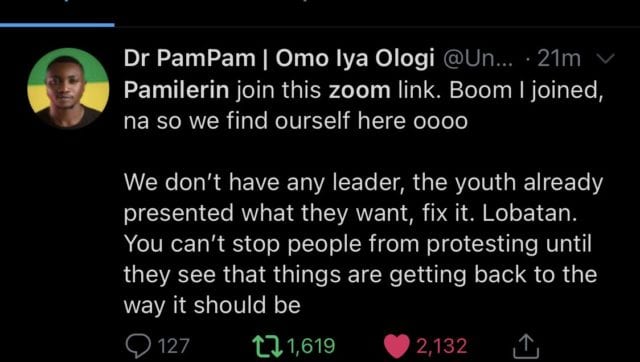 However, they further expressed that Nigerians should focus on the goal and not let conspiracy theories divide them like it did the generations before. While some tendered their apologies for any misconception whatsoever.
My support to our collective goal remains unwaivering to #EndSARSNow #EndSWAT #EndPoliceBrutalityInNigeria #EndSARS pic.twitter.com/hA370VNqDW

— Dr. Dípò Awójídé (@OgbeniDipo) October 14, 2020
Honestly wasnt planned the way pple think. Someone you know says please join this call, you join. The thing had already started. Youre seeing the same things repeated because all the 'protesters' invited said the same thing: none of us has power to speak for all or make decisions https://t.co/R75cCYWL8t

— FK. (@fkabudu) October 14, 2020
Dear Nigerian Youth
You want the government where you want it and they are trying to use divide and rule. Don't fall for it.
Do better than the generation past#SARSMUSTEND #EndPoliceBrutalityinNigeria #EndSARS pic.twitter.com/hYvftpY1oP

— Aisha Yesufu (@AishaYesufu) October 14, 2020
The post Wizkid, Falz, Phyno, Spotted In Unscheduled Zoom Meeting With Governors & Business Executives appeared first on Most Trusted Voice in Music & Afrobeats from Nigeria & Africa | Notjustok.